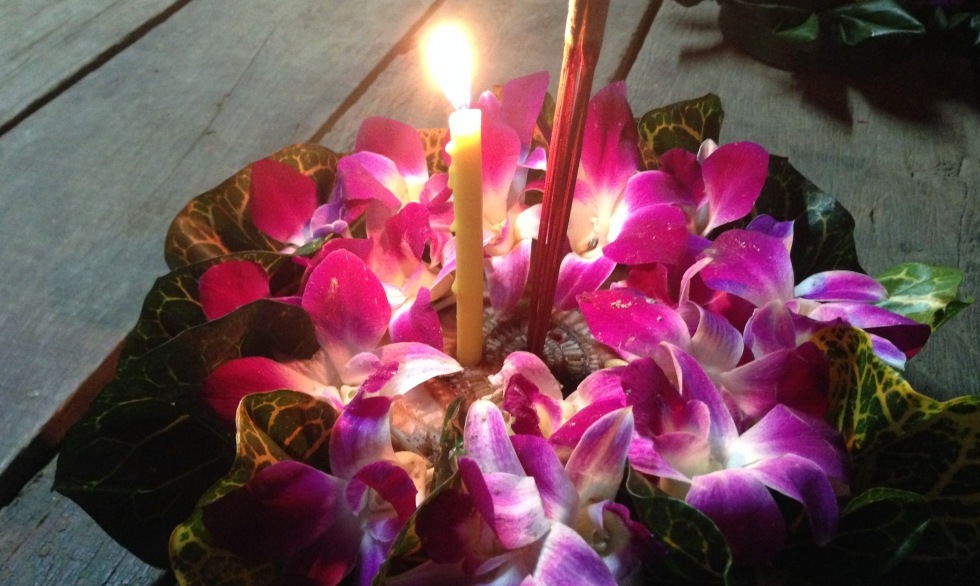 Last night I was privileged to participate in the Loi Krathong annual festival celebrated in major Thailand cities. The event is held in November on the nights of the full moon. The festival centers around water, and placing your dreams, wishes and prayers on a flower bouquet alight with a candle flame sent floating down river. In Chiang Mai we have the Ping River flowing through the center of town.
I arrived at my friend's home, and he and some friends were preparing food for the feast. While the curry and rice was being prepared, the tables were all being outlined in flame, with tea light candles placed in a beautiful design. There was a group of twenty, and we drank beer, ate the food, watched as fireworks exploded above our head, and reveled in the high energy of a group ritual. Everyone in town was participating tonight.
After our meal, we ventured over to the local temple. Here sat Buddha. We all lit a candle and placed it on the altar. This was a wonderfully solemn time, a moment of introspection and honoring of a master being that walked the earth. At first I did not even see Buddha, however once I backed up, I saw the 30 foot tall Buddha watching over the proceedings. That is a good analogy for Buddhism here in Thailand. The Buddha is all around, but not one person has tried to talk to me about becoming a Buddhist. Even me neighbor monks who chant every morning, they just smile at me and go about their business. Seems they are more concerned about their own inner life than about anything I say or do.
Next we headed to the river. Our host had reserved a small wooden shack that sat just over the edge of the river. Men fished from this exact spot each and every day, catching dinner and some extra to sell at the market. I began to think about the conversations I and my male friends would have, sitting by the river's edge, throwing our fishing line out into the water, drinking a few Singha beers, and espousing on work, women, and the dire state of our souls. Note to Jay: Organize a men's event in Thailand. Include a day of fishing and drinking. My oh my, that would be a blast. So while everyone was running around, lighting fireworks and lanterns, I sat still and looked out at the water. I feel a profound peace around water. The sound of water soothes my soul, dire as it may be!
I was the first of our group to light the candle and incense in the center of a flower bouquet and set it free to float down the river with my most sincere desires intact. I watch as it floated out and then downstream, soon joining the most sincere desires of so many others. While others were in a more playful mood, shocking one another with loud firecrackers, I found myself contemplative, blissful, and grateful to be in that little fishing shack on the Ping River in Chiang Mai, Thailand, watching the river flow.
About the Author
Jay Cradeur is an author, blogger, internet marketer, world traveler, and coach. Jay has helped thousands to achieve their dreams of financial independence. As an internet marketing coach with a focus on personal development, Jay may be able to assist you in reaching your goals. You can work with Jay for a 100% refundable fee of $49 by clicking on this link and committing to your future. Work with Coach Jay.