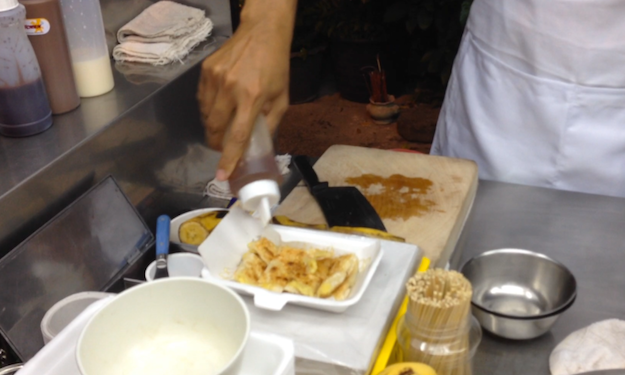 Last night I had an unexpected awakening. I had just arrived in Chiang Mai last Friday (five days prior) and I will be here for approximately one month. Even though I am in about as "chill" of a personal headspace as I have ever been, I still have some of that "gotta do this, and gotta do that!" energy flowing through me. Also, I have been sick for the past 6 days. The night before I left Phuket for Chiang Mai, I started to feel a sore throat coming on. Two days into my Chiang Mai visit, I was decimated by a full blown cold, with the fever, sweats, sore throat, and exhaustion. Consequently, I haven't done much since my arrival in Chiang Mai.
Last night I left my hotel after a long day of work, feeling content with my accomplishments, and ready to explore the city. I walked a few blocks, and soon realized I wasn't all that hungry, even though it was my normal eating time. What to do? I walked a bit more. Then I saw a stand making mango yogurt shakes. The Danish guy drinking one looked at me and made a face that said "this is the best thing in the world!" I bit, I ordered, and for that moment, my Danish friend was right. I had discovered a new and unknown decadent treat just 2 blocks from my hotel.
Still feeling listless, perhaps I am not as recovered as I had first thought, I wandered a block down Loi Kroh Road, and landed next to my new friend Tip, at the outdoor foot massage place. There is a row of reclining chairs set up outside the shop, facing the street. It is quite wonderful to sit back, relax, people watch, and get your feet and legs worked on. Within minutes, young, diminutive, yet remarkable strong Sah was getting started on my massage. So there I was, talking to Tip, an older Tai women who understood about half of what I said, and I understood about half of what she said, and I shared about all of my children and showed pics on my Iphone. Soon I had to close my eyes and enjoy the massage, and work the energy from my feet throughout my body. It was a very healing experience as I continue to discover how much of my energy had been locked into my feet. These nightly massages are quite a lesson in energy flow, meridians, and force.
After a glorious hour, Sah had finished her work, and I said goodbye to Tip and her protégé. After a massage, I rarely feel like doing much of anything except heading back to my room for a nap or to go to bed for the night. I headed home, feeling content, healed, whole, and still wanting something sweet to wrap up the night. There, like a beacon in the night, was a rottee cart. Rottee is what Thais call a crepe. Here the crepes are made with banana and either honey or chocolate, or both. I ordered banana and honey. The crepes are cooked, and then cut into 16 pieces and served in a small paper dish with a sharp stick. Poke and eat, which is what I did all the way to my room.
After completing my pre sleep ritual, I was tucked in, and that is all I remember until I woke up 8 hours later. So what is the awakening? I don't have to do anything in particular to have each moment ring with truth and joy and purity and presence. Each moment is just like another moment. The belief that some things are better than others is an illusion, a story I have been telling myself for quite a while. There is another lie I am now ready to let go. Be gone lie. Welcome truth and more of the freedom to be just as I am in this moment with whatever is in my consciousness now. And with that said, I can't help but look forward to tonight's Chiang Mai explorations. Thanks for reading.
About the Author
 Jay Cradeur is an author, blogger, internet marketer, world traveler, and coach.  Jay has helped thousands to achieve their dreams  of financial independence.  As an internet marketing coach with a focus on personal development, Jay may be able to assist you in  reaching your goals.  You can work with Jay for a 100% refundable fee of $49 by clicking on this link and committing to your  future.   Work with Coach Jay.