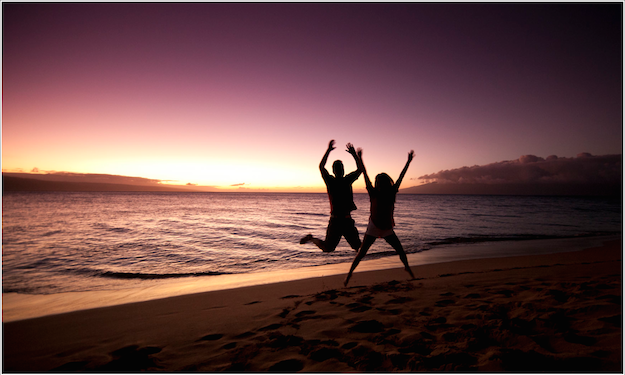 This article is featured on the Good Men Project.  Click here to visit the site.
There is no doubt that a weekend getaway can provide excitement and adventure and intimacy for a relationship. I noticed, especially with children in the house, when my partner and I took a short trip together, we returned home feeling reconnected, reinvigorated, and happy. As the dude in the relationship, I have always felt it was my job to look down the road, anticipate when my relationship could use a little excitement and then plan a trip that my partner and I would deem unforgettable. Planning a trip is not enough. There are certain things you can do when on the road to add that oomph that transforms a mere weekend away to something very special and wonderful and memorable.
Recently I spent a weekend in Kuala Lumpur, Malaysia and it was unforgettable. My partner and I had a glorious time. Here are some things I learned, which you can incorporate into your next weekend. These items are not listed in any particular order, and are presented cafeteria style. If you can work all of them into your next adventure, fantastic. If only a few apply, they will still add to the scintillating nature of a sensual get away.
Make it a four-day weekend.
In my experience, two days is great, but four days is even better. By leaving on a Thursday night, and returning on a Tuesday morning, you are giving you and your partner four full days to wake up and go to sleep in a new area. There is also something wonderful about waking up on Monday and seeing many other travelers heading home, and knowing you still have one more full day to enjoy your trip. I realize it may be difficult to get the time off from work, but believe me, it is so worth it. The positive benefits on your relationship will be profound and life lasting.
Go someplace you have never been before.
It is easy and convenient to have your favorite "go to" place. It is comfortable. When you go someplace unknown, both you and your partner are in a constant state of not knowing, and everything is new. There is nothing like the first time of anything. It is exciting. In men's work, we talk about the paradigm of living at our edge, in that place of not knowing but still willing to go for it. It adds a very attractive energy to everyday life. Visiting a new location, not knowing where to go nor where to eat, nor where to explore, it puts you both at your edge. This adds to the excitement. It also adds to a sense of partnership and togetherness as you and your travel companion figure things out as a couple.
Go someplace where the locals speak a different language.
Having just returned from Kuala Lumpur, I experienced this first hand. Most people there do not speak English. This forced me and my partner to communicate with our bodies, our facial expressions, and by doing quite a bit of pointing. Being in a place where English is not the native language is another way to gently coax you out of your comfort zone just a bit, all of which adds to the excitement level and the unique and one of a kind feeling of being a foreigner in a foreign land.
Have sex in the morning.
Do it. Many couples get into a rhythm of sex at night before going to sleep. Try to mix things up. Take showers, brush your teeth, and have a wonderful romp in your hotel room.  Most hotels have very soft sheets and comforter and pillows. They are a perfect launch pad for erotic play. Sex in the morning gets the day off to a glorious start. It makes the day special. It is something you will always remember as a delightful part of your weekend getaway.
Eat great food.
Eating delicious food is a very reasonably priced way to experience the delicacies of your destination. In Kuala Lumpur, we at hot pot, a variety of local fruits, exquisite sushi, delectable steamed fish, and local beef soup. Each meal was an adventure in itself. If you are not sure where to go, check out the Internet. All cities have food critics who post their favorite restaurants, the best restaurants on a budget, the best food carts, as well as a top of the line, don't miss this place, list of eateries. There are also several apps for that. Even on a budget, you can eat well, and have stories to share.
Get massages.
Life is too short not to get massages. We all work hard. Perhaps you are a man who does physical labor. I know that sitting for eight hours per day focused and typing on my Macbook Pro makes my neck sore. I recommend you make it a priority to get a massage. You can get a simple foot massage, a full body oil massage, a neck and back massage, a Thai massage (a body massage without oil) or a reflexology massage (focus on your feet).   If you do not normally get a massage at home, this will make your weekend getaway even more memorable. And even if you do get a regular massage at home, it is still ever so decadent to take an hour or two and allow yourself to be pampered. Your body will thank you for it. And so will your partner.
Walk everywhere and utilize public transportation.
It is easy to jump into a taxi and get driven around. Is sitting in traffic really what you want to be doing? Walk. Get lost. Experience your destination the way the locals experience their home. While in Kuala Lumpur, I made a half-mile trek each day to the local health club. On my way to the club, I passed local vendors and best of all, I was able to look eye to eye at the other temporary visitors passing my way. I also saw some of the poverty that exists which was both humbling and left me filled with gratitude. I would not have experienced any of this had I had not walked. If you are bored, take a walk, get lost, and keep going until something interesting happens. And something interesting always happens! Also, especially as you get outside of the United States, the public transportation services are phenomenal. I took a train to and from the airport in Kuala Lumpur. What a joy! I could sit, look out the window, play on my cell phone (the train has free wifi), and people watch to my heart's content. One extra benefit to public transportation is you can feel good that you are contributing to a cleaner environment.
Get a room with a view.
I have found that when I have a room with a view, my days start off with a certain sense of wonder. I enjoy my morning coffee. Perhaps you drink tea, or water. Waking up, opening the blinds, and drinking your favorite beverage with your partner looking out at your new destination, it is a wonderful way to start your daily adventures.
Take pictures and videos of your journey.
I don't recommend you use your smart phones for much else. Watching your partner checking out her Facebook page is not too enlivening. However, the action of taking pictures and videos does do a few things. First. It is fun. You smile. You ham it up for the camera. You talk and express yourself. Your partner will appreciate your open hearted sharing. Second, you are creating a digital memory of your amazing journey. There will be a point when you will look back, and watch a video, and remember little details you may have forgotten, and it will make you smile. I just looked back at a video taken during my visit to hot pot restaurant. My partner took a video of me adding meats and vegetables to the bubbling hot soup. She added some music to the video with an app and now I have a perfect memory of my joy sitting at the table creating a sumptuous feast in a very unique way.
Do something unusual.
When I was in Kuala Lumpur, at two in the afternoon, I walked to a local outdoor restaurant. Next to the eatery was a tiny older woman who took dough, dropped it in boiling oil, and served up fresh doughnuts. The texture was like an American doughnut, but the taste was not as sweet. It was absolutely delightful, especially with a cold iced coffee. Another thing we did was to go out late at night. Normally I am in bed by 11 PM. In Kuala Lumpur in the Changkat area, the place doesn't get going on a Friday night until 12 midnight. We sat at our street side table at two in the morning, drinking mojitos, and watching all the people come and go. We laughed, we shared stories, and we had a blast. Do the unexpected and you will be surprised at how much you will enjoy doing something different.
There you have it. Get out of the house. Get out of the country. Travel the world. Make your life the exciting adventure it is. Use some of these tips and before you know it, while you are on the airplane heading home, you will already be planning your next adventure. Life is short. Live it with no regrets. We men are often looked to for the direction in our relationships. Do it the right way. She will love you for it. Surprise her and surprise yourself. Create it big and bold. Going out and making a weekend getaway unforgettable is a great way to spice up your relationship and keep you and your partner smiling from ear to ear.
Photo: flickr / damien_p58