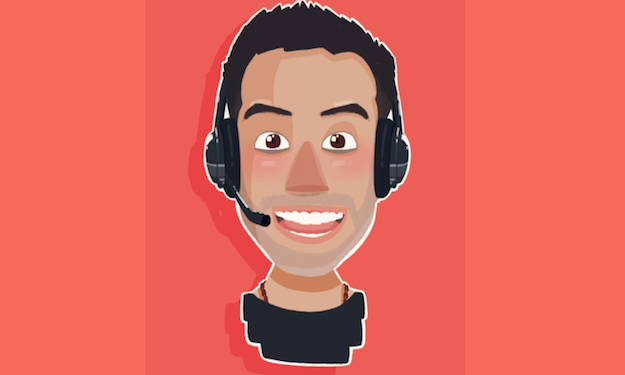 It's just not that hard. Recently I had someone make this image of me. Since I am a phone coach, I asked an artist to take my marketing image, the big smile, and add some headphones. I sent him a quick selfie to see what the actual headphones (Logitech) look like on me. We went back and forth 3 times, each time the image and headset began to look closer to reality. After about 3 days, like magic, I had a brand new image to use on Skype and with my MOBE email account.
So you might think this was really expensive and hard to pull off. Well you would be wrong. I sent two images to a guy I found on Fiverr, and spent, are you ready for this, $10. And for this miniscule investment, I continue to get comments about how cool my image is, and folks ask me where they can get one made for their own marketing. Fiverr. Just about anything you could want or need in terms of building an online business can be found on Fiverr. At the end of this blog is a video I made with more examples of how I have used Fiverr.
You may wonder how I put out 15 pieces of content each week. I write travel / lifestyle blogs. I write some purely Internet Marketing blogs. I also post videos to YouTube. How do I do all that? I don't. There is an entire network of independent contractor all over the globe, from the U.S. to India, from China to the Ukraine, from Pakistan to the Philippines. All these people have specific talents that they will sell to you for a very reasonable fee. These folks are generally referred to as Virtual Assistants, and they will make your life manageable, while giving the world the appearance that you are working night and day. My partner and virtual assistant, Jan, is from the Philippines, and he is responsible for getting all the content out to the world. I focus on creating the content. I get to go out and ride an elephant, and then share about the experience and lessons learned. I love it.
You can visit a site called Elance. I have used Elance quite a bit over the years. There are others, but I can only attest to Elance as they have been very professional and effective for me. Do your own research. Matt Lloyd has also created a program for $297 about all the dos and don'ts associate with utilizing other people's time. It is called the OPT Formula and I highly recommend it if you are not working with me as a client, and would find the information valuable. If you are a client of mine, you will get the OPT Formula when you become an MLR (licensee).
Do what you are good at. Hire others to do the other stuff. Go have someone make an image for you. $5. Order a new business card image. $5. Take some action. Get some images going. It will stir not only your creativity, but also your vision. Watch this video and see how simple it really is.
About the Author
Jay Cradeur is an author, blogger, internet marketer, world traveler, and coach. Jay has helped thousands to achieve their dreams of financial independence. As an internet marketing coach with a focus on personal development, Jay may be able to assist you in reaching your goals. You can work with Jay for a 100% refundable fee of $49 by clicking on this link and committing to your future. Work with Coach Jay.